I originally bought this coffee table for an interior design client who needed a living room table with excellent storage.  This one has four nice drawers on the front and four magazine shelves on the back.  When their project stalled out, I decided to keep it.  It was a perfect scale for my living room, solid oak in good condition with legs that look perfect with my furniture set's legs, but I definitely wanted to do something bold with it.
2015 is a great time to do your own furniture painting/staining.  Surely you too have been in enough hipster joints lately with reclaimed lumber tables, pallet wood cladding on the walls, shelves made of piping, and salvaged industrial pendants to know that rusticated, hand-made, reclaimed wood furniture is all the rage. You want the chandelier in the Earl of Grantham's salon…
hanging over a farm table from one of the servants' cottages or the work table from the kitchens.
And to prove I'm right here are a chandelier and a table you can purchase at Restoration Hardware today.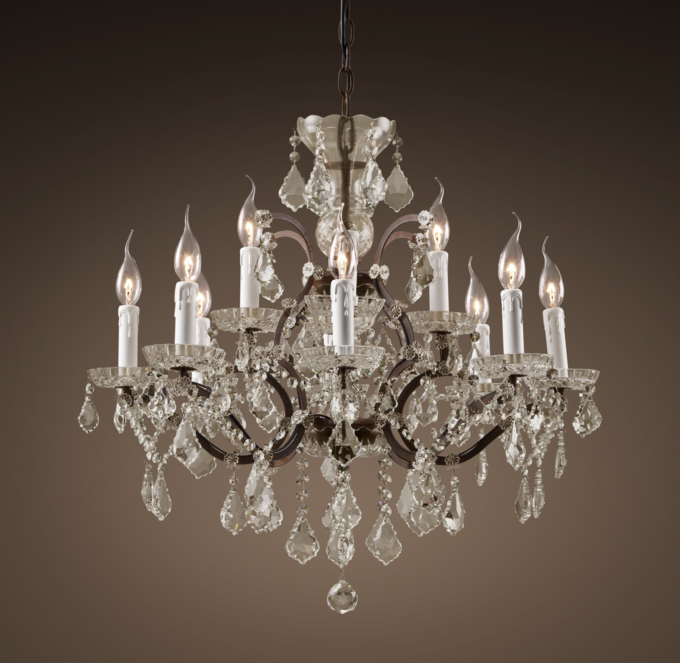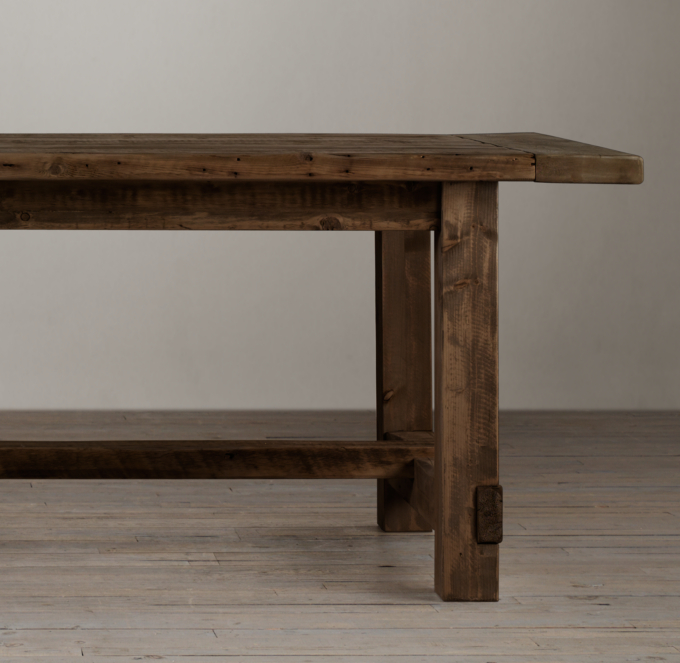 I have seen so many intentional paintbrush drag marks and so many distressed finishes with over-sanding and glazing in furniture stores lately.  Like this trunk table from Pottery Barn.
I actually hate the term distressed.  It sounds so traumatic.  I prefer rusticated.  The point is it's a lot easier to achieve a do-it-yourself rusticated finish than a do-it-yourself satiny smooth finish.
I bought this table for $40 on Craig.  I spent at least $100 on materials (paint, stain, polyurethane, 4 nice brushes, bunch of grades of sandpaper), plus another $50 for a belt sander, and I may very well spend $20-$40 more on pulls.
I started by lightly sanding the entire base.  Then I painted it with two or three coats of a high quality semi-gloss latex paint in navy blue.  Normally I would spray it for a smooth finish, but I was going for handmade drag marks, so I used a paint brush.  I did two coats in some places (like around the drawers) and three in others (drawer fronts) so there would be subtle variation in the shade of the paint.  It doesn't come through great in the pictures, but it's very pleasing in person.  Here's a picture of it covered in dust from sanding the underside of the top.
Then I got to the fun part.  You know how on reality TV shows, they do these personal interest stories that begin with "I'm one of those kids who's been through a lot?"  Well, I wanted to infuse this mass-produced piece with a backstory.  The used coffee table came to me with plenty of character marks already, but in a honey oak finish.  Although it was sacrilege to beat the crap out of that parquet joinery on the top with the belt sander the way I did, I wanted the reclaimed look, and I went for it.  I left a little of the old finish semi-intact in places to give it the variation and character of wood that's seen things it can never unsee.  And then I stained it.  This was not the first time I have stained wood, but it was the most fun.  There was a lot of freedom and well, creativity in creating a rusticated finish.  The stakes are low when the aim is not perfection but almost a rough hewn look.  I stained it.  I sanded out places.  I hit it with stuff.  I stained it again.  I sanded it here and there.  Then I gave it two coats of polyurethane (with light finish sanding in between coats).
The whole project took approximately 5 episodes of Serial of active time minus the hour or so I pressed pause while the belt sander was blasting.  I also didn't wear my mask as much as I should have while sanding and staining so now I have drain bamage and cansur.
Maybe I always think this, but I'm surprised at how much I completely love the reveal.  I always feel super confident when I get a  DIY idea.  This is going to be EPIC!  I'll just paint and refinish it.  Peasy!  Then when I get started and realize how hard it is, I droop like Charlie Brown's Christmas tree.  Why did I think I could do this?  Am I clinically insane?  Then when I finish, and it's not a complete humiliation, I look at it.  I can't tell if I've been in the monkey cage too long so that the smell doesn't bother me anymore.  I ask for outside input.  Kent proclaims it awesome.  Says he loves it.  Says it should go in our room.  Says it should go in every room.  The four women who come over to watch Death Comes to Pemberly give it their blessing.  And then I look at it again.  It's actually, to be honest, The Hauteness.   Yaaaaay!!!
I am saving more pictures of it for tomorrows post about the broader living room makeover.  Stay tuned.