Okay, okay, I've got one.
What did Degas, Monet, and Renoire all say when they didn't win the Grande Trec art competition?
"I hate to lose Le Trec!"
Get it?!  Toulouse-Lautrec?  Art history majors everywhere are rolling on the floor, amiright, Ang?  I made that one up in Home Depot just now.  True story.
So here's the deal.  My builder paints the interior of his houses Cool Platinum by McCormick.  What color is cool platinum?  Well might you ask.
Here's some platinum.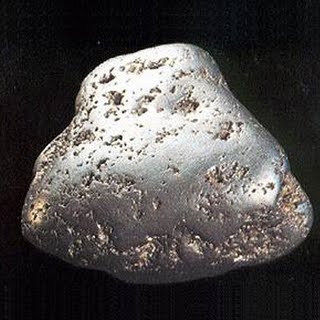 Here are the cool tones of the color wheel.
What color do you think Cool Platinum would be?
Maybe this?
Perhaps something like this?
Au contraire, mon frere!
This is McCormick's Cool Platinum.
If that is not the beigest beige you've ever beiged, I don't beige what is.
It's not a horrible beige.  I just have a thing about beige.  That thing being that I don't like it in my house.  I like it in other people's houses.  Not mine.  I want my house to be primarily white and gray with a rainbow of fruit flavors accessorizing every room.  I know you feel the same because you are just as hip and fabulous as I.
So I was horrified when I went in to McCormick's in Vienna and looked at a sample of Cool Platinum.  Uh…something is not right with the nomenclature of this card.  Yikes!  Is that really the color of my interior?!  The manager at McCormick's was super nice and took the time to explain many things to me such as:
1.  The grade/type of paint makes a huge difference.  The same tinting in a different grade of paint will produce a different color and slightly different finish even though the names of both the color and finish are the same.  If you try to patch a low grade paint with a high grade paint of the same color, it will be very obvious.  Often it will look like the higher grade paint is shinier.
2.  Builders use the cheapest commercial paint imaginable.  They also tend to use only the handful of factory-mixed off-whites.  If you try to touch up builder's paint with even the lowest grade of retail paint in the same color, it's going to look different.
3.  New houses require a lot of touch up the first year.  Nails pop through the drywall.  Houses settle and seams of drywall tape split.  Trim expands and contracts and pulls at the paint.
4.  Little sample pots of paint are useless.  "We just throw in there whatever paint we have left over, all different grades and finishes and tint it.  So it's never going to look exactly like the can of paint you have mixed."  That I did not know.
Now, I knew most of the other things because my mom has had a painting company for a couple decades.  But I "Aw, Mom!"-ed it all when she said it.  Whatever, Mom.  What other pearls of wisdom did you bring from the 70's?
Despite warning me not to do any custom paint for a year after we took possession of the house, the McCormick guy volunteered that he would tint the commercial grade paint for my builder any color I wanted.
So although it was already a million years too late, and I had signed a contract that specifically said Beige My House, I emailed my builder a couple of weeks ago.
"Any chance you (guys) could paint my walls one of McCormick's greys instead of Cool Platinum which in person is surprisingly neither cool nor platinum?  The McCormick rep volunteered that he would give it to you in their commercial product for the same price as the prefab off-whites.  I realize that is not the only consideration.  Please, please do not behead me for asking.  Cringing…."
Four days later when it became apparent that he had tired of my art history humor and was sending all my emails to the spam folder, I re-sent the first message adding,
"Tap, tap.  Is this thing on?"
Still nothing.  So a few days later, in the only window of time I had sans children which happened to be walking across the parking lot to my neurologist to find out the results of my Lyme/Sjogren's/Multiple Sclerosis testing, I called my builder hoping to leave a brief, professional message. But he answered, darn it.  Normally, I enjoy talking to my builder about house stuff.  This time, however, I knew he'd say no, and I hate fighting a losing battle.  But I had committed to getting the final verdict from the decision maker.  I just hoped the guillotine would be swift and painless.
Builder: "I was just going to respond to your email."
Yep.  It's gonna be a no.
B:  "I didn't see your first one, so I'm glad you sent that follow up."
Here comes the no.
B:  "I was going to tell you the reasons why we don't do custom paint."
Fine, fine, fine, fine, fine!   The answer is no.  Roger.  Moving on.
B:  "We used to do try to do custom paint for some people, and it was always a nightmare.  It's hard to touch up because…."
Mm-hm.
B:  "I did something similar in my own house with a dark beige, and it's been nothing but trouble."
Okay, I really should have called at a different time.  If I'm 15 min late for this appointment they charge me a $75 no show fee.  "Go ahead.  I'll take the next elevator."
B:  "Sometimes when we used to do custom colors, we ended up having to repaint whole walls."
Builders are from Mars, homeowners are from Venus.  Repainting whole walls versus patching is more expensive for the builder.  Repainting an entire beige house is horrifically more expensive than repainting a few whole walls as a customer.  Also, didn't you just kind of prove my point by admitting that despite knowing all the cons, when you were the homeowner not just the builder, you painted your house custom colors?  Burn.  
B:  "I also wanted to give you some advice."
Me:  Cutting in "–Wait a year for the house to settle before doing any painting?"
B:  "Right."
And then he tried to make conversation and remind me of all the awesome transom windows he put in my house.  But I was deflated like Peggy Olsen when her boss Don Draper who has championed her work eventually barks at her, "Stop asking for things!"  Plus, you know, neurologist.  My builder didn't remotely bark, but I had already barked at myself for him.
B:  "Sorry I can't help you out."
Me:  "Don't apologize.  I understand."
On the upside, turns out I don't have Lyme disease, Sjogren's disease, brain tumors or MS.  I just have chronic migraines and a an entire beige house to repaint.  I believe the two are related.
On the other upside, this foyer claims to be cool platinum, and it doesn't look half bad.  It also doesn't look like any of the other pictures of cool platinum, so I'm guessing it's a camera thing.
I'm sure it will all turn out fine.  At the end of the day,
I just hate Toulouse.